A beautiful vintage wedding featuring simple details by family and friends.
The best kind of wedding is the one where family and friends really come together to not just pull together all the details, but also bring 110% of their love and support the shower on the couple. The joy is so obvious when that happens.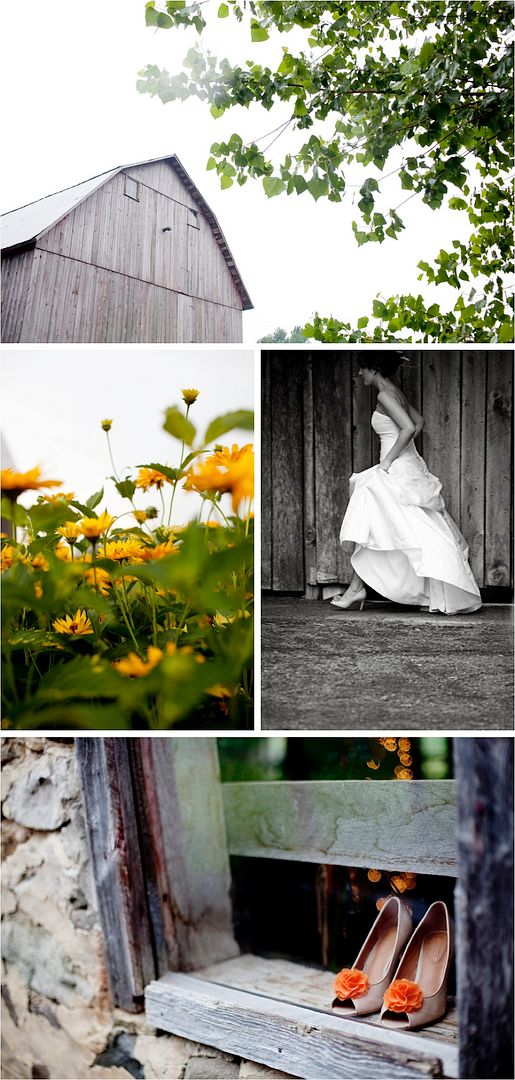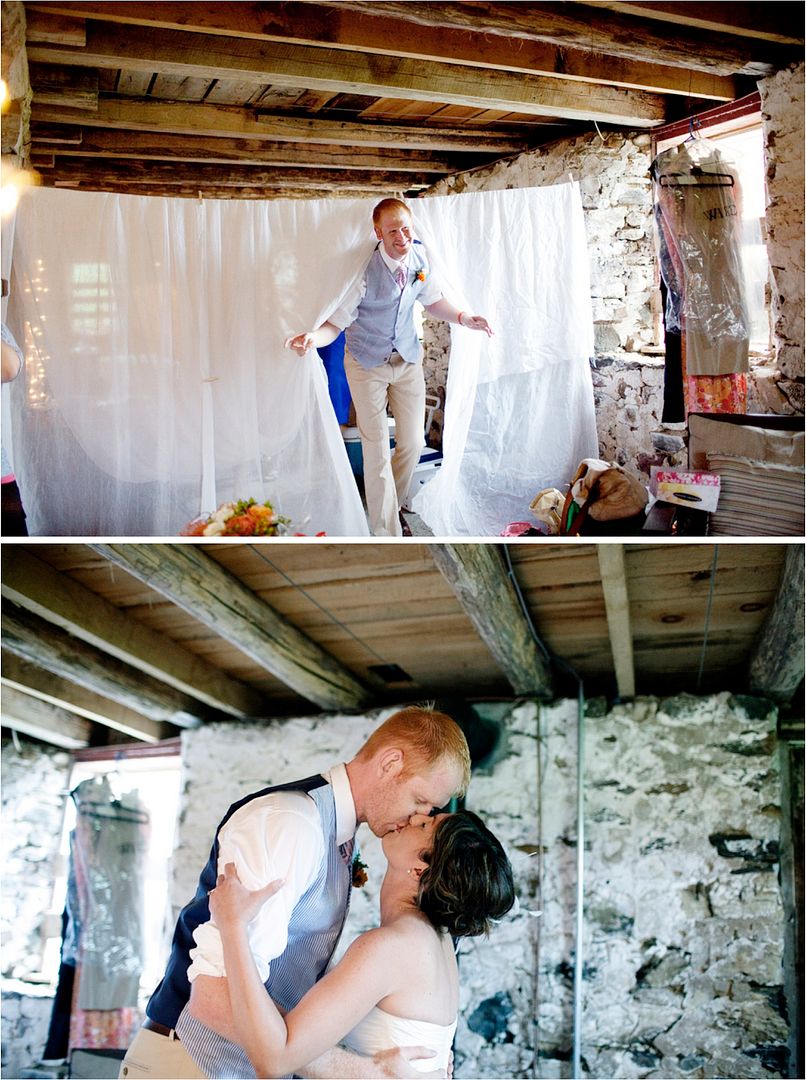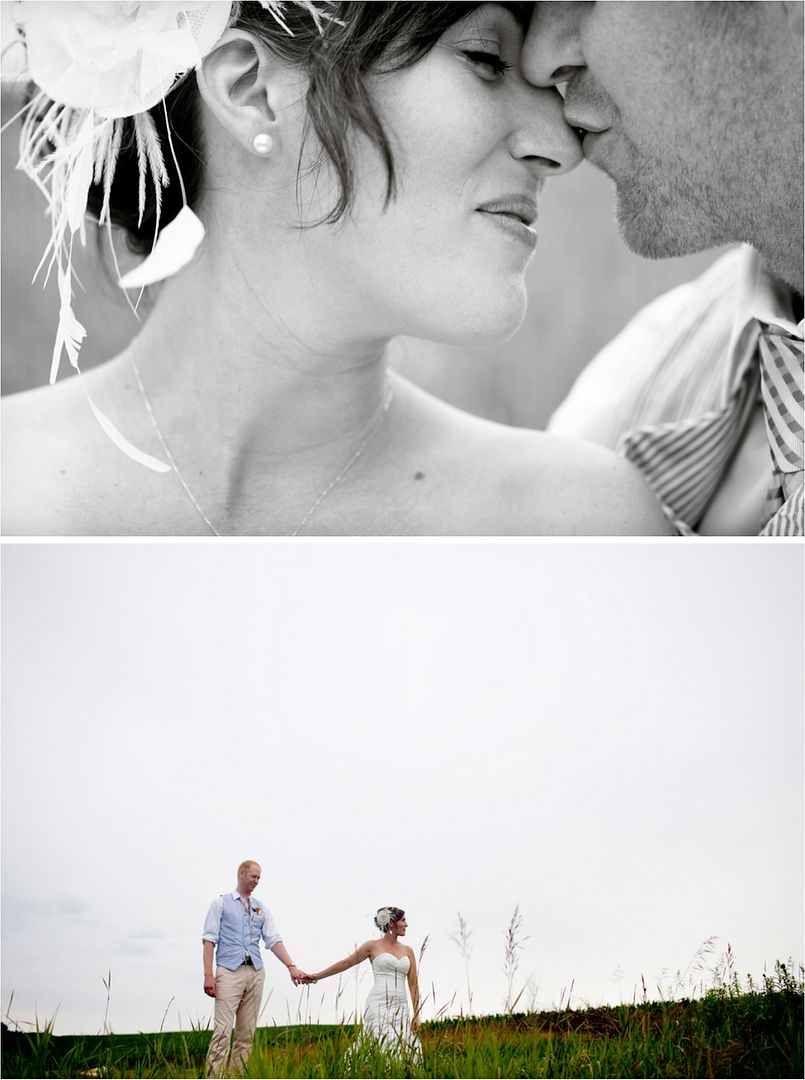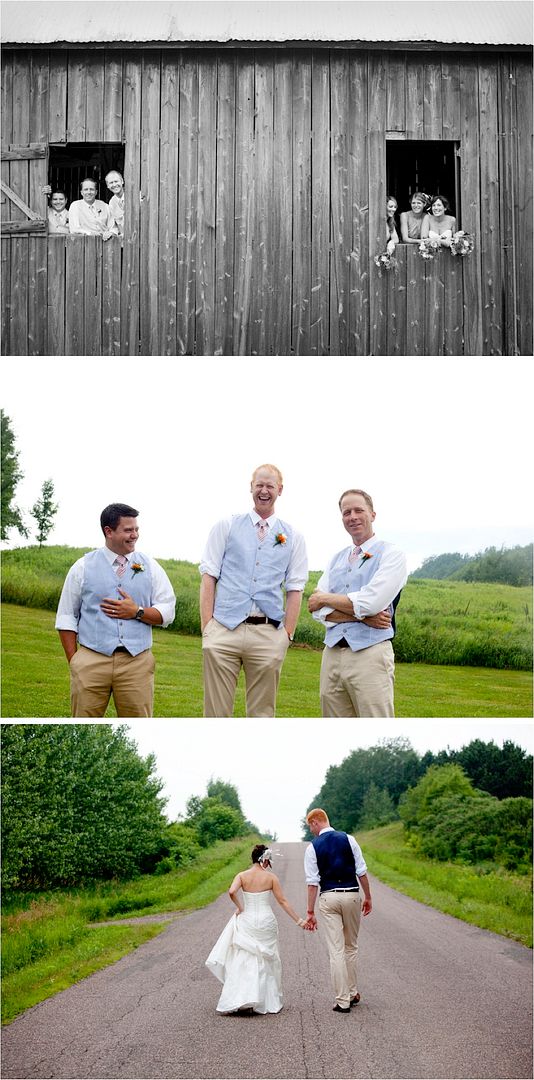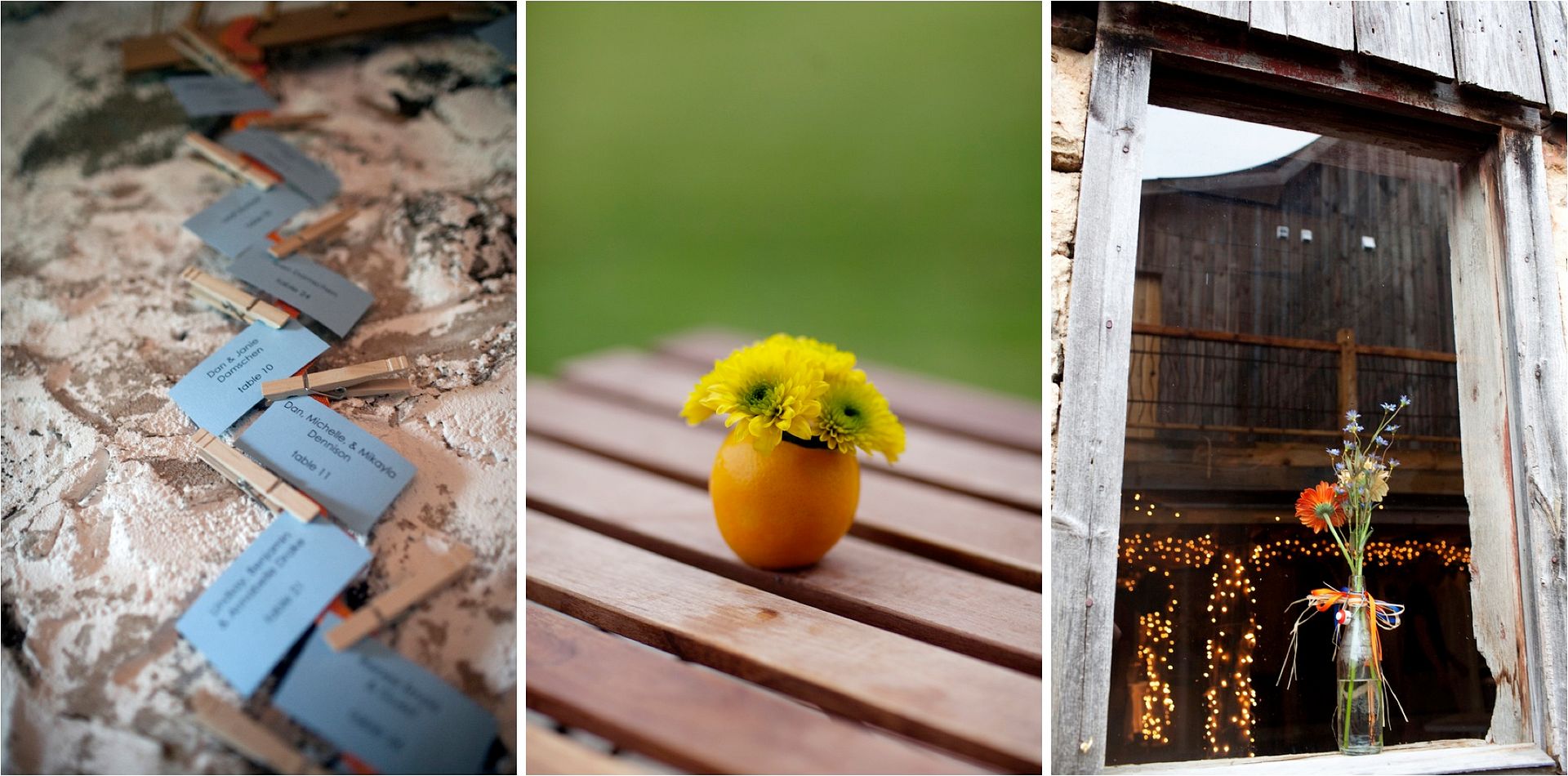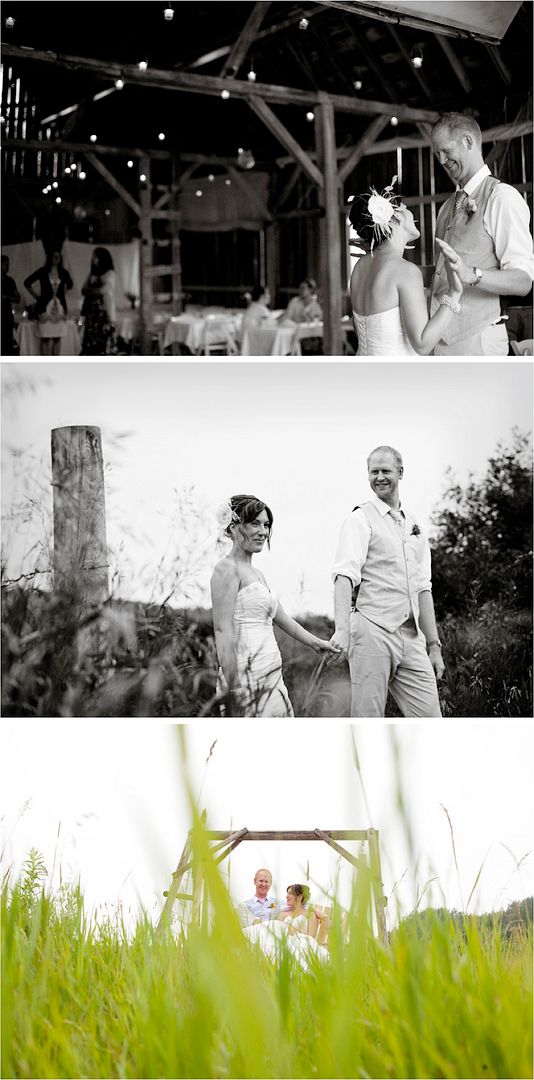 Krystal Muellenberg Photography
---
From the Bride:
I'm an Iowan girl with simple tastes, and my fiance is a very tall red-headed Minnesotan. Joe is very outdoorsy and athletic and adventurous. Me, I'm more of a timid person, who likes details, knitting and reading. We both have goofy, easy-going senses of humor. We met because we moved into the same apartment building, on the same day, next door to each other–our landlord introduced us! Joe proposed on Dec. 12th on a Sunday afternoon when I was folding laundry…pretty low key but a great surprise. When we started planning, we decided we wanted our wedding to be the one where people say, "Hey, remember Haley & Joe's wedding? That was cool." So we got married in a barn!
We also had so many friends and family helping plan our day–our good friend Justin is getting ordained so he can be our officiant, Joe's mom was our wedding coordinator, my sister-in-law designed the invitations, my mom grew and did some of the flowers, Joe's sister made the save-the-dates…the list could go on forever!
The Enchanted Barn was such a wonderful venue. I really wanted a barn wedding and this was by far the most beautiful, affordable and convenient option–there's other barns out there for wedding venues, but The Enchanted Barn had the rustic charm, flexibility and convenience we were looking for.
My dress was an ivory-colored, raw-silk gown that had arrived with silk flowers, an feather attachments and a flowered shoulder strap. I preferred a simpler look, so I chose not to have the gown's flowers and strap sewn on. Instead of a veil, I recycled the flowers by having a custom feather headpiece made out of them!
My mom, sister, and grandmother and I bought the flowers wholesale at the Minneapolis Farmer's Market. We arranged ahead of time to have certain flowers and colors through a vendor, Peterson's Flowers, and the day before the wedding we picked them up, along with other odds-and-ends bouquets at the market. We then used antique blue mason jars as the vases, and placed dogwood branches in the arrangements to hang the table numbers as well. My mom also made the flower girl bouquet, and all of the corsages and boutonnieres out of a mix of homegrown marigolds and greenery, and farmer's market flowers. For the bridesmaids' and my bridal bouquet we used a local flower shop, Peonia, in Robbinsdale, Minnesota, where Joe and I live.
Ever since I was little my mom has been quilting. And, ever since I have wanted her to make me a Grandmother's Flower Garden quilt which is quite labor intensive as it's made up entirely of tiny hexagons which have to be hand-sewn together. So, as part of the wedding decorations we used antique quilt blocks of Grandmother's Flower Garden, and my mom's quilting friends agreed to sew Joe and me a Grandmother's Flower Garden for a wedding gift!
Our delicious cake was made of two flavors: a vanilla bean with lemon custard and buttercream frosting and a chocolate-Surly-beer flavored cake with honeyed-sour cream filling and chocolate ganache frosting. (Surly is a local craft brewery near us in Broolyn Park, MN). The rest of the food was catered by Saffron Meadows, the in-house caterers at The Enchanted Barn. We chose barbecue boneless pork, green beans with onions and bacon, Granny Smith salad for dinner, and baked artichoke spread with crackers for the cocktail hour hors d' ouerves.
For our music we asked a couple of Joe's neighbors Jim Hetman and his son Travis Hetman to play during the ceremony and cocktail hour. We chose "Dream a Little Dream of Me," by the Mamas & Papas, "Maybe I'm Amazed" by Paul McCartney, and "I'll Be Your Baby Tonight" by Bob Dylan, for the ceremony music; and the Hetmans played everything from Johnny Cash to Doc Watson to the Rolling Stones during the cocktail hour. Joe and I used our iPod and created different playlists for the rest of the music during dinner and the dancing.
And of course our photographer Krystal Muellenberg! I was so excited when I found her website and saw how beautiful and fun and quirky her photos were! Just what we were looking for–and Joe and I were so impressed with how she worked so effortlessly throughout the day. We had so much fun with her and Emily Schmidt, who we were so lucky to have as well! Both photographers were so easy-going and creative, and produced the most gorgeous memories for us!
---
Ceremony / Reception Venue: The Enchanted Barn | Catering: Saffron Meadows | Bakery: The Salty Tart | Florist: Paeonia Floral, Family | Wedding Gown: The Wedding Shoppe | Bridesmaids Dresses: J.Crew | Groomsmen Attire: J.Crew | Photographer: Krystal Muellenberg Photography
4 Comments