Cincinnati, Ohio
I am quite excited to share today's vendor spotlight – Alicia Foehl of Sophie – A Design Boutique.  Her paper work is fantastic – and being a lover of all things paper, I could not help but swoon over every. single. creation. she has made.  I know you'll enjoy her work as much as I do. Plus – she is located in the Midwest!
What type of services do you offer to brides and grooms?
Custom designed wedding invitations (includes RSVP cards/postcards)
Wedding programs
Monograms
Place cards
Menus
Table numbers
Thank you notes
Envelope seals
Save the dates
How long have you been in the wedding industry and where are you located? What got you interested in the wedding industry?
I have been in the wedding industry for about three years, and am currently located in Cincinnati, Ohio but most of my clients are from Northwest Ohio. I have always been interested in everything paper but it wasn't until my best friend asked me to design wedding invitations for her Fall 2008 wedding that I realized I really had a passion for wedding stationary. I had never tackled a project like this but, with my graphic design background, I thought I could handle this task. I really had no intentions of starting a business with a niche in wedding stationary but I received so much positive feedback that I could not ignore it. I have been designing custom wedding invitations ever since.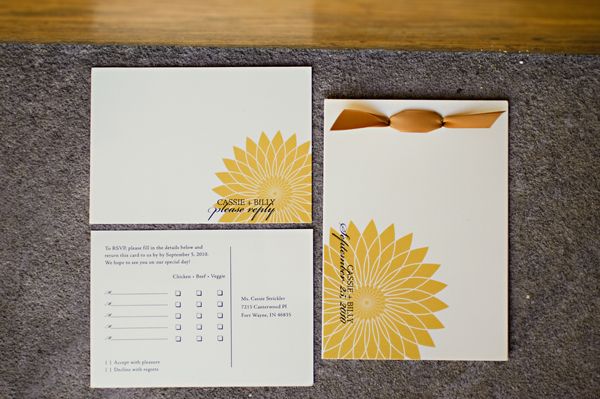 What type of couples do you like to work with (traditional, modern, etc.)?
I don't think I have a certain "type" of couple that is my favorite when it comes to style (traditional, modern, etc.). My ultimate favorite clients are the ones who say "Surprise me!!!" I have had multiple clients who really trust me and they allow me to have all the creative freedom in the world. Obviously it's important to design something that fits their style and represents one of the most important days of their lives. I am truly inspired by each an every one of my clients. That's why many of the designs are so different.
Is there anything within your business that you specialize in?
Sophie – A Design Boutique specializes in hand-made creations. All of my invitation designs are assembled by hand to ensure the highest quality of production. I tie every ribbon, adhere every invitation, apply all embellishments and punch all eyelets.
What do you think makes your boutique different?
I think what makes Sophie – A Design Boutique different than many of my competitors is the one on one time I have with my clients and EVERYTHING is assembled by hand. I think it's important to listen to the needs and wants of my clients and implement a design that best represents their personalities.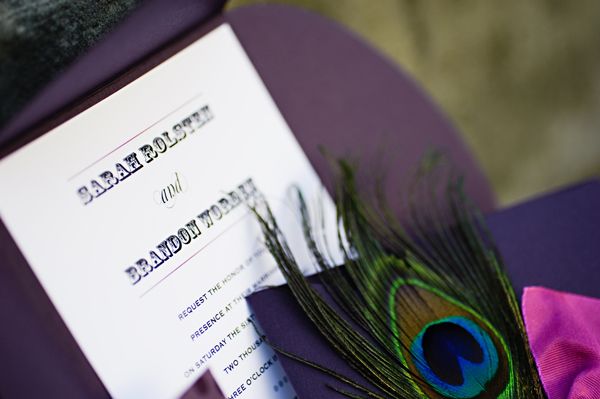 What advice would you give a bride and/or groom who is looking for their perfect wedding invitation?
I would advise them not to settle for just any invitation. Typically, the save the date or the wedding invitation is the first item your guests will receive. You want them to open the envelope and be excited for your wedding. The invitation is the first impression and we all know you only have one shot at a first impression 😉
When you're not busy designing stationary and paper goods, how do you like to spend your downtime?
I love to travel! I have spent quite a few weeks on the road last year. Some of my travels this past year included: Italy, Hawaii, Puerto Rico, Niagara Falls, New York, Houston, Austin and my favorite city of all Nashville. I am a big fan of country music and I have a wide collection of cowboy boots that go along with that passion for the country lifestyle.
Photography by Erin Hoffman Photography
3 Comments
3:04 pm

on

January 26th, 2011

7:01 pm

on

January 26th, 2011

11:48 am

on

January 28th, 2011