I love a good love story. Just as much as I love finding new talent and sharing the work (well, they may not be new, but they are new to me). And, I love finding photo shoots that are a true representation of a couple.
Jillian Bisinger recently shot a friend of hers and his husband while they were in town (in town = Los Angeles) visiting. If there is something I'm a die-hard advocate for, it is same-sex marriage. So, of course, I love the fact that Alton and Andre were married several years ago while on board a cruise ship off the coast of Rio de Janiero in a fantastic ceremony with friends and family. Now, if only we can make the move to allow that to happen in the States (as in all of them, not just a few).
Jill was able to capture some wonderful, and high fashion shots of the two – of course while enjoying a few glasses of the bubbly. Besides being a fun, and perfect couple, the two have small ties to the wedding industry. Alton is the Creative Director at Kate's Paperie, a paper boutique in New York and Connecticut. Andre, on the other hand is a jewelry atelier out of Rio de Janiero where he runs his own business A.Costa Deluxe. And, of course Andre made their wedding bands – which could not have been a more perfect situation.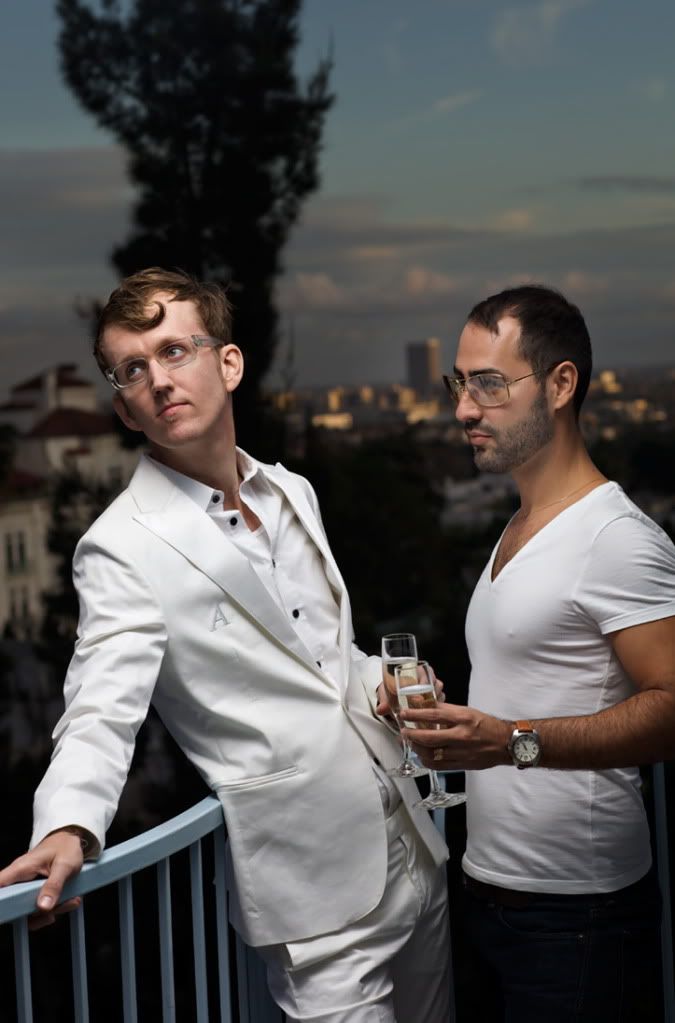 Images courtesy of Jillian Bisinger Modern Photography
P dot S: If you have already jumped over to Jill's site, please do so – she does some amazing work. Not to mention she is extremely sweet. AND, add her blog to your Reader (no pressure or anything)!
P dot S dot S:  On April 8, the No H8 Project is hosting an exhibit featuring the photos from the St. Louis shoots. I urge you to check it out if you're available!
7 Comments