It's great when a couple can really set the style for their wedding based off of the attire their attendants (bridesmaids and groomsmen) wear.  While, I'm a sucker for a man in a classic tuxedo with a bow tie, I'm quite the fan of something different.  Case in point? Our groomsmen will be wearing a stone khaki colored suit (more on this in a future "My Wedding" post).
This bride and groom opted to have their groomsmen wear khaki pants with a collared shirt, sweater and tie.  While, this is not a look for everyone at their wedding – I can truly appreciate what this couple is going for.  It has a classic feel, with a touch of uniqueness.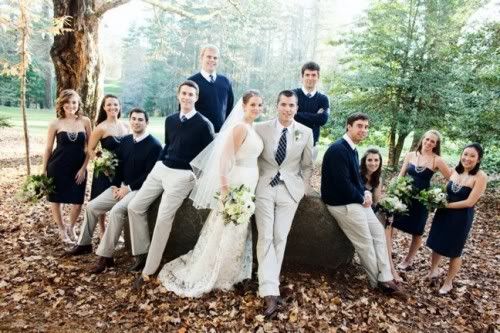 \
Image courtesy of Angela Stott via EAD Weddings
What will your groomsmen wear?
4 Comments