In keeping up with the chic DIY theme from Grace's wedding, I wanted to share with you all this fantastic little DIY project.
I'm a huge fan of grosgrain ribbon (HUGE).  I was always the girl that wore one in my hair whenever I had my hair up. So, it is no surprise when I found this little beauty, I was ecstatic.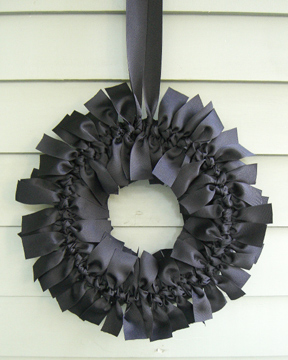 The wreath is super easy to make, and would make an adorable addition at a wedding. The wreath could be made in any color. You could even alternate colors to add depth (although I'm a huge fan of the monochromatic look for this wreath).
Here are the instructions to make your own (as found on The Long Thread):
Supplies:
– 12″ foam wreath form
– 24 yards 1 1/4″ black grosgrain ribbon (or less if using a wider ribbon)
– Scissors
– Measuring tape
Steps:
1. Cut 45-50 16″ pieces of ribbon.
2. Tie one strand of ribbon in a knot around the wreath. I used a "messy knot" — right over left, then right over left again, pulling in the opposite direction. It doesn't really matter how you do it as long as you are consistent all the way around. Repeat with the knots, pushing them close together, until you fill the wreath.
3. Cut one long piece of ribbon (48″) and tie one end to form a knot. Leave a long loop for hanging and tie another knot onto the wreath.
4. Trim any frayed or long ends.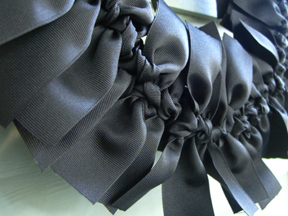 Images and instructions courtesy of The Long Thread via iDIY.
6 Comments