I'm going to get a bit off topic for this post and discuss make-up (which, I guess, isn't all that off topic).  I'll admit it.  I don't have a ton of make-up knowledge, but I do know what I like.
I've been wearing Bare Escentuals for nearly three years now and cannot imagine wearing anything else.  It has not only helped to clear up my skin, but is so light and non-irritating.
But my intention is to talk about mascara. I have a really hard time find a a mascara that does not irritate my eyes.  I don't have sensitive eyes, but because I wear contacts, bits and pieces of mascara fall into my eye and by about mid-day, my eyes are irritated and my mascara has rubbed off from rubbing my eyes.  My last trip into Bare Escentuals, I was on a mission to buy the new Matte foundation.  Since I have somewhat oily skin, I've heard that this new version of their traditional foundation is perfect for that (And, as a side note, it is.  I love it).
While I was in the store, I let one of the sales women talk me into buying their mascara.  She assured me it is all natural (which is uber important to me) and that it separates your lashes wonderfully.  I bought it (since I'm a sucker for someone who tells me that their mascara will work wonders). The particular mascara I'm talking about is their bareMinerals Flawless Definition Mascara.
I take it home, and use it once, and I'm sold.  The stuff coats all of my lashes, even the little ones that traditional brushes normally miss, and it really makes them stand out.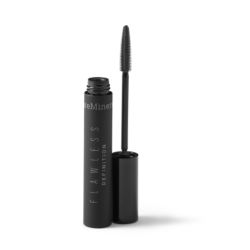 Bare Escentuals
So, if you're looking for a good mascara, and one that is all natural (Woot for eco-friendly!), I recommend you go out and buy it.  Only downside?  They don't make a waterproof version (which is bad news for you brides-to-be). However, they do have another mascara product that is waterproof….for you Bare Escentuals fans out there.
2 Comments
11:25 am

on

October 10th, 2009

11:40 am

on

October 10th, 2009